Mana Fashion Services Hosts Third Pop-Up, Solidifying Bonds in the Miami Fashion Community
The 3-day event provided attendees with a range of programming from fashion shows to industry panels and over 100+ eco-conscious brands to shop from.
Nov 8, 2023 · 4 Minute Read
---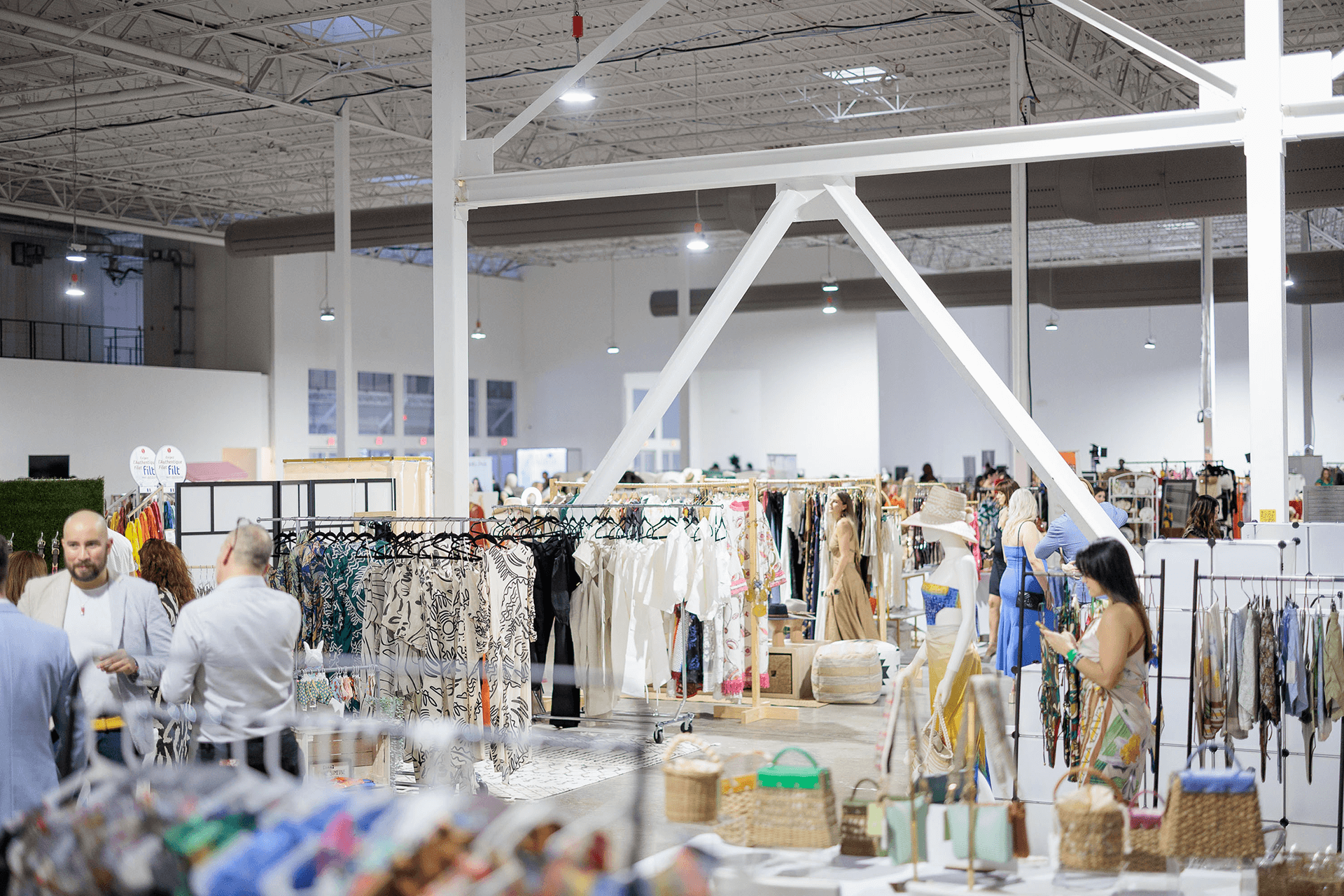 Mana Fashion Pop Up, Mana Wynwood Convention Center, photography by World Red Eye
From November 3rd through the 5th, Mana Wynwood Convention Center opened its doors for the return of the Mana Fashion Pop-Up, a fashion spectacular headlined by a fashion show from FW23 Collection of Faith Connexion Paris on the VIP Preview opening on Day 1. The runway show was presented in a see-now-buy-now format where spectators were able to shop the collection, right away. The Pop-Up featured over 120 eco-conscious brands from Miami, Latin America, and beyond with a group of Ukrainian brands presenting their shoppable collections. The event welcomed hundreds from Miami's local fashion community and prominent figures, including Moishe Mana, Isabela Grutman, Antonio Brown, Natalija Ugrina, Victoria Unikel, and Elysze Held, and many more all came out to support Mana Fashion Services. Over 500 style influencers in Miami came out to support the unveiling of the latest edition of the Mana Fashion Pop-Up.
Antonio Brown and guests, photography by World Red Eye
Isabela Grutman and Sari Martelot, photography by World Red Eye
The Mana Fashion Pop-Up kicked off with a VIP Preview hosted by Aura Copeland and opening remarks by Miami's Mayor Francis Suarez.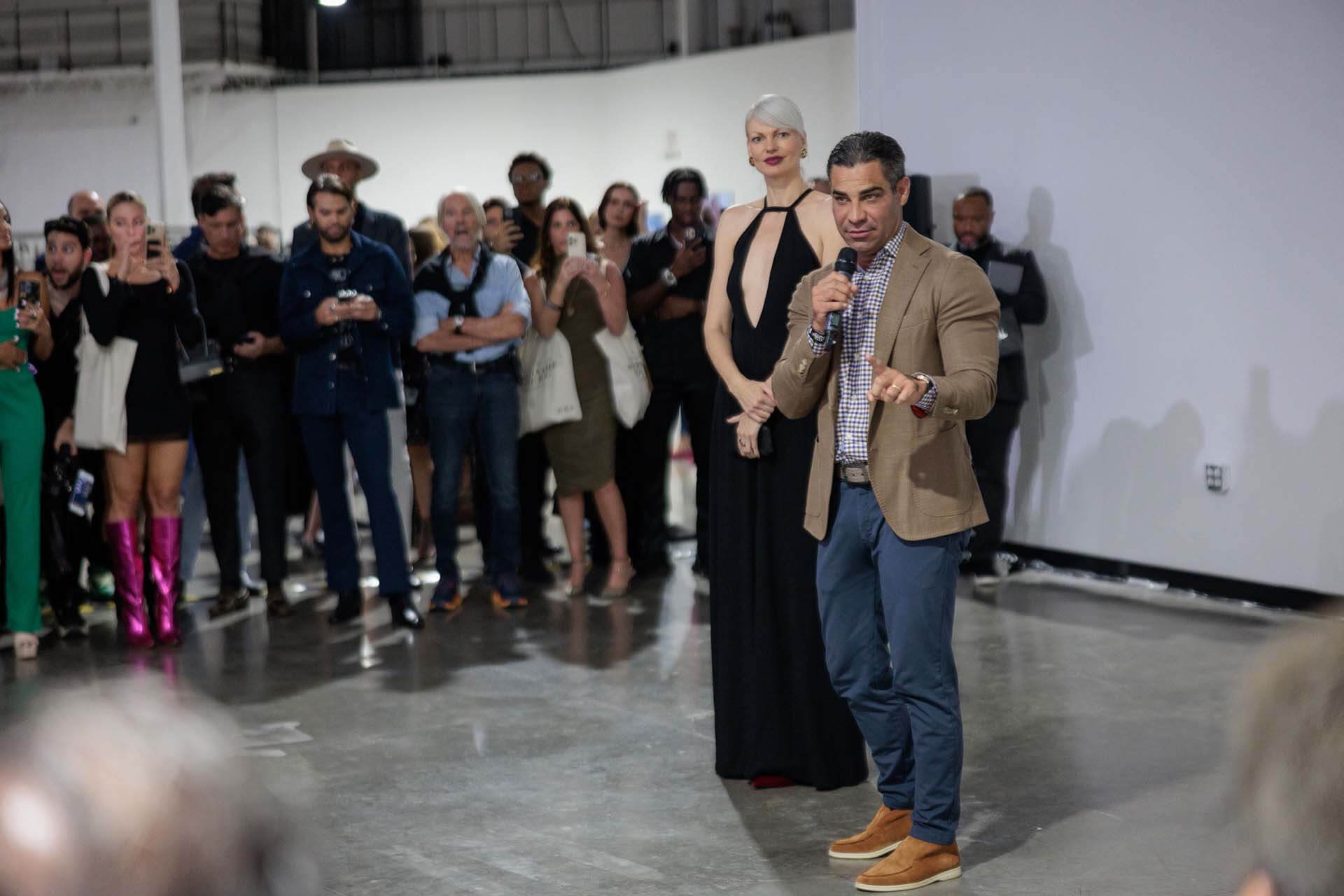 Opening remarks by Mayor Suarez, photography by World Red Eye
For the FW23 collection, Faith Connexion went to its roots and reinterpreted its guiding principles in a never-ending cycle of renewal. The collective unearthed the Maison's original logotype: half Gothic, half bling, the embodiment of a «too much is never enough» attitude straight out of the 2000s, the era that gave birth to the brand. The artist «8», a long-time collaborator, was given carte blanche for its reincarnation. His updated logotypes as well as a brand new logo-form he created are omnipresent this season in a diversity of formats and volumes. We find them adorning a revisited 50s style women's tweed suit, screened on the back of a hooded micro bomber, embellishing the leg of a pair of jeans, running all the way down to the heels of the shoes. The collection takes life as a series of portraits of cool kids, the «usual suspects» of the Maison, presented here almost like a gallery of clones.
Faith Connexion Runway Show
Throughout the weekend, guests enjoyed shopping from brands that offered a wide selection of unique items, including resort wear, jewelry, home decor, handbags, menswear, womenswear, and much more. In addition to being able to shop unique pieces from independent designers, the Pop-Up featured a vintage car exhibit, sustainability workshops, a clothing swap activation, and family-friendly activities.
On Sunday, a panel discussion led by moderator, Charlotte Trattner, Managing Editor of MIAMI and Ocean Drive, covered the topic of The Rise and Impact of Sustainability and Ethical Brands. The panel included industry leaders like Maria Buccellati, Sarah Akiba, Camila Straschnoy, and Amanda Nicol. The experts spoke about their roles in sustainable fashion and admirable movement towards supporting ethical brands.
Charlotte Trattner with the panelists Maria Buccellati, Sarah Akiba, Camila Straschnoy and Amanda Nicol, photography by Chris Carter
Sponsors included Valdo, La Fete, Deep Eddy Vodka, Deep Wastewear, Arlo Hotels, and Delta Airlines which all kept the spirits high especially after the winners were announced of the Mana Fashion Giveaway of a $500 Visa gift card, Arlo Hotel Stay, and Delta Airline voucher.
Interested in learning more, attending or participating in Mana Fashion Services' next event? Join the community to stay informed.
---